History of Willow Grove Park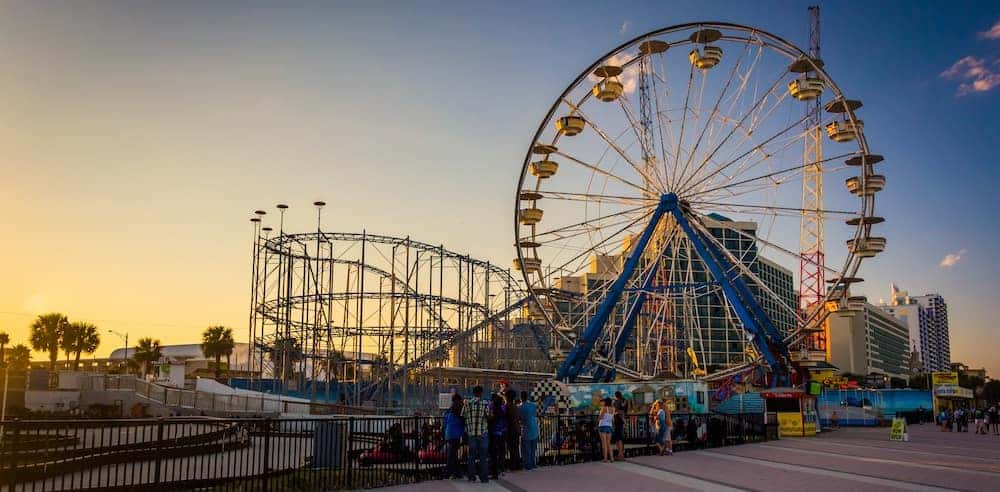 Today, Willow Grove Park is a mall, but have you ever wondered what was there before it? Explore the history of Willow Grove Park and then make the trip from Doylestown or Fort Washington to see it for yourself. Feel free to contact us with any tips about local history!
The Willow Grove Amusement Park Era
Nearing the turn of the century, young people began to experience newfound freedoms and rigid social norms began to relax.
Entertainment moved to a more public sphere and mass attractions like vaudeville shows and the Chicago World's Fair were accessible to people of all classes.
Industrialization and technological advances made mechanized rides and games possible.
As a result, amusement parks like Coney Island exploded in popularity, and Willow Grove Park followed suit opening in 1896.
The park's slogan was "Life is a lark at Willow Grove Park."
John Philip Sousa and his band played at the park's music pavilion every year except one between 1901 and 1926.
Willow Grove Park was one of the most popular amusement parks in the country until the 1950's when Disneyland and other theme parks began opening.
The park was renamed Six Gun Territory in 1972, and with the rise of new forms of entertainment like video games and arcades, park attendance began to fall.
The Willow Grove amusement park announced in April of 1976 this it would not reopen that summer.
The park lay vacant for 6 years until it was bulldozed to make way for a shopping mall in 1982.
The Willow Grove Park Mall Era
The Willow Grove Park Mall opened in 1982 during with the heyday of the American shopping mall.
The mall was named to honor the original amusement park and displays objects and banners related to the park's history.
As a further tribute to its roots, a merry-go-round was built inside the mall in 2001.
Today, you can shop anywhere from the Apple Store to Zales, dine at food court eateries and restaurants, and attend events like Pet Photos with Santa, all while remembering the 120-year legacy of Willow Grove Park.
Explore the Area with Land Rover Willow Grove
Explore more shopping options in Willow Grove, and let us know if you want to learn more about the area, like what are the best Cherry Hill, NJ parks or best restaurants in Doylestown, and visit Land Rover Willow Grove near Mainline for your automotive needs!
More From Land Rover Willow Grove
The 2021 Range Rover Sport is a head-turning SUV that offers advanced technologies, interior amenities, and engine performance that are sure to make your drives around Mainline more exciting. Enjoy features like four-wheel drive, a rearview camera with front and rear parking aid, power fold heated side mirrors with memory and approach lights, and…

The new Range Rover Velar offers avant-garde style, premium interior amenities, and performance that others in its class can't compete with. Plus, there is a plethora of 2021 Range Rover Velar color options available for both the interior and exterior. Learn about the Range Rover Velar exterior paint colors and interior colors with Land Rover Willow Grove….

The 2021 Land Rover Defender 90 would look great in any Willow Grove driveway. The 2021 Land Rover Defender 90 is downright cavernous, the Land Rover Defender 90 colors are sophisticated and stunning, and the starting price of the Defender 90 is a bargain. Get all of your details about the new Defender 90 in this…